If You Don't Have Time, Make Time
by Lila Lazarus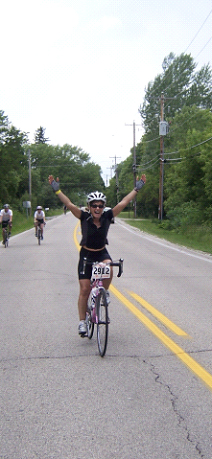 "It must be nice," my friend said to me with a tinge of resentment as I got onto my bike.  "Having time to ride a bike is a luxury I can't afford," she said.  Her words hurt me.  She made it sound like I have all this extra time in my life to ride my bicycle.  The truth is, I don't have extra time…I make it. For the last six months, I've been deep into training for a 300-mile bike ride with Team Joe's to raise money for Make-A-Wish to grant wishes to children with life-threatening illnesses.  It's a three-day journey— 100 miles a day. Those of us making this ride have been training for months. There are dozens on our team who, like me, don't have time…they make it. They are doctors and CEOs and lawyers and business owners. Husbands and wives, parents and students. Every one of them has a busy life. And none was given more than 24 hours in a day. So if you're one of those people who looks longingly at those riding their bikes, or playing with their kids in the park, or sitting and reading a book and thinking "Gee I wish I had time for that," then these words are for you. Decide what it is you want to do and 
make a commitment
. No, I didn't have time to train for hundreds of miles. No, I don't have free weekends to spend in the saddle, pedaling for hours.  But the moment I made the commitment to Team Joe's — I made a decision that riding would trump anything else vying for my free time. I made the ride my top priority. Whatever it is you want out of life needs to be the most urgent thing on your list. And the moment you make the decision, start making small changes to increase the time you give to complete your goal. Find every piece of wiggle room. No, I don't watch TV. No, I don't have time to peruse social media. No, I can't have long leisurely lunches with friends or for business. And no, I haven't been to a movie in six months. I had to learn to go to bed earlier so I could wake up earlier and ride. I had to find every small chunk of time and make use of it.  That's what you do when you have a goal and want to find the time. I had to cut back on everything that wasn't essential. It's tough for me to say no, but if I was going to say yes to this ride, I was going to have to say a lot of no's. The cool part was, people told me they weren't upset when I said no — they were inspired by my commitment to a 300-mile bike ride. No, I haven't been to the car wash in a while. I haven't had a haircut and I do have a long list of errands that will have to wait.  But the honest truth is that life is better when you make time for things you really want to do. Achieving a goal feels amazing and makes you feel more alive. So take a moment and think about your time and the things you'd really like to add to your life. Do you want to read more? Ride bikes? Get more sleep? Just put those things on your to-do list and make the time. If it's that important to you, then get off Facebook, put down the phone and make it happen. Between you and me, the same girlfriend who told me she wishes she had the luxury of riding bikes, spends an inordinate amount of time on Instagram and spends an awful lot of her free time watching television. Yes, she's the VP of a major company and works hard, but I'm sure if she reevaluated her day, she'd find the same 24 hours the rest of us have. A hectic life should not be your excuse for missing out on what you really want to do. It means tracking your minutes and hours and finding the wiggle room. It means making use of every time slot you can.
How I Found the Time:
Every time I had a chance to commute via bicycle I did. I would ride to meetings, doctor's appointments, any time I could. A six-mile ride would take less than half an hour and I would arrive energized…albeit a bit sweaty. People thought I was crazy commuting to downtown Detroit on a bicycle, but the 25 miles passed quickly, and left me feeling alive. Waking up early is the best way to find extra moments to get something done. And once you're up, you're focused and ready.  It was tough getting myself to go to bed earlier, but I love the way I feel after eight hours of sleep. Don't wait for anyone else. While it may be fun to have a buddy to ride with, if I really wanted to get the job done, I couldn't wait.  I had to get on my bike and just do it. And I had to give up choosing the perfect trail. To save time, I hopped on my bike and left right from my own driveway just as I did when I was a kid. I'd write more but my bike is calling me from the garage and I have 300 miles to ride. Make a commitment and make the time.